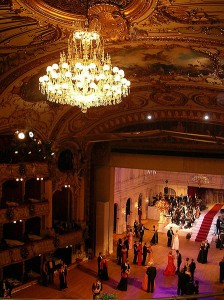 Are you interested in hosting an inaugural gala or even for the 2013 presidential inauguration?  In addition to the official events, the 2009 inauguration featured many unofficial diversions, such as inaugural balls, receptions, brunches, conferences, an inaugural fashion show, a beer tasting event, and similar festivities.  The 2013 inauguration will likely feature more such events, and anyone may set one up.  You can easily set up a ticketing system through services such as Eventbrite or TicketLeap, both of which allow you to:
manage registrations
accept payments
advertise your event online
check in attendees the day of the event
and much more
Venues
The following venues have either been used for inaugural festivities in the past, or are suitable for ones to be held around the time of the inauguration in January, 2013.  Please contact the venue directly for information about availability for specific dates.
Smithsonian National Postal Museum
2 Massachusetts Ave., N.E.
Washington, DC 20002
Contact: Amy Borntrager, 202-633-506
Ibiza DC Nightclub
1222 1st St. NW
Washington, D.C. 20002
Contact: Keith.ibizadc@gmail.com, 888.IBIZADC
Mead Center for American Theater
1101 6th St. SW
Washington, DC 20024
Contact: Danielle Esposti, 202-600-4040
Union Station
50 Massachusetts Avenue NE
Washington D.C.
Contact: 202-289-8300
Smithsonian National Air and Space Museum
600 Independence Avenue Southwest
Washington, D.C. 20560
Contact: Special Events, 202-633-2340
Atlas Performing Arts Center
1333 H Street NE
Washington, D.C. 20002
Conact: Anastasia Robinson, 202-399-7993
The Washington Club
15 Dupont Circle
Washington, D.C. 20036
Contact: 202-483-9201
Mayflower Renaissance Hotel
1127 Connecticut Avenue Northwest
Washington, D.C. 20036
Contact: 202-347-3000
Mandarin Oriental
1330 Maryland Avenue, SW
Washington, D.C. 20024
Contact: 202-554-8588
Marriott Wardman Park Hotel
2660 Woodley Road, N.W.
Washington, D.C. 20008
Contact: 202-328-2000
L'Enfant Plaza Hotel
480 L'Enfant Plaza, SW
Washington, D.C. 20024
Contact: 202-484-1000
George Restaurant & Tavern
3251 Prospect Street. NW
Washington, D.C. 20007
Contact: 202-333-1735
Bohemian Caverns
2001 Eleventh Street N.W.
Washington, D.C. 20001
Contact: 202-299-0800
City Tavern Club
3206 M Street NW
Washington, D.C. 20007
Contact: Lauren Woodley