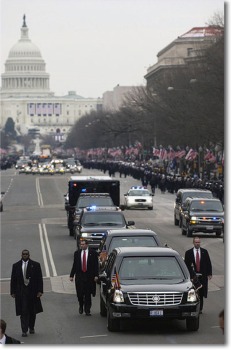 The Inaugural Parade, generally held on the afternoon of the swearing-in ceremony, is a popular part of the inaugural festivities.  After the president and vice-president have been sworn in (and after the inaugural luncheon), they typically travel down Pennsylvania Avenue to the White House, where they remain while they review the rest of the parade as it passes by.  The tradition of the inaugural parade goes back to the first inauguration of George Washington, though it has changed in a variety of ways over the centuries.  The event is currently coordinated by the Armed Forces Inaugural Committee in conjunction with the Presidential Inaugural Committee (PIC).
The 2013 Inaugural Parade
The 2013 Inaugural Parade will take place in the afternoon of January 21 and will proceed down 15 blocks of Pennsylvania Avenue between the U.S. Capitol and the White House. Public entrances to the parade route will open at 6:30 a.m. and will close when the parade route areas have been filled. The parade itself will begin at 2:30 p.m, and it typically takes about two hours to complete. There are ticketed and non-ticketed viewing areas of the parade. A limited number of tickets are made available for bleacher seating through the Presidential Inaugural Committee, which has published directions for ticket holders on where to go to be seated.
On December 19, the first group of Inaugural Parade participants was announced by the PIC.  To view the list, please see this page. For a map of the Inaugural Parade route, please see here.
If you would like to watch a live stream of the Presidential Inaugural Parade on January 21, please visit this page of the Presidential Inaugural Committee.